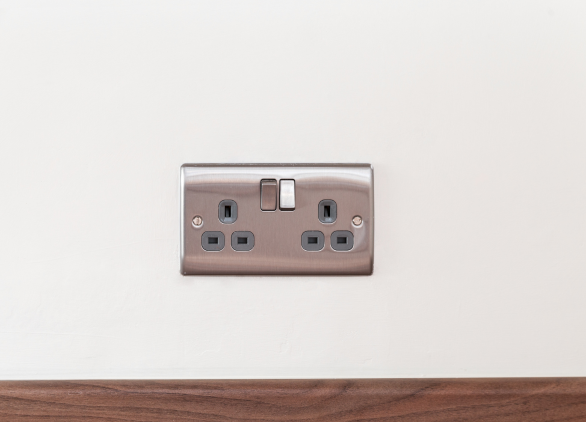 Faulty sockets and switches are a common cause in failing an EICR (Electrical Installation Condition Report). So, how can you combat this? By regularly maintaining and replacing outdated, faulty sockets or switches. 
Electrical Experts can upgrade your outdated fittings to ensure your Coventry property remains as safe and efficient as possible. 
What are the dangers of a faulty socket?
A faulty socket can increase the risk of fires and electric shocks. Worn out sockets which are not properly grounded can pose a huge fire risk – this is not something you want within your home. Offer your family or tenants increased protection by replacing sockets which are no longer fit for use. 
Signs your sockets need replacing:
Thankfully there are some signs to look out for if you're unsure whether or not your sockets need replacing, these include:
Burning smell.
Hot to the touch. 
Discolored or burnt.
Flickering lights.
Popping or sizzling noises. 
Frequent blown fuses. 
If you experience any of these signs – call a local electrician immediately. Electrical Experts, Coventry is your local small job electrician. If you require electrical additions such as new sockets or switches, my team and I will be happy to assist you. 
can I replace an electrical socket myself?
A confident DIYer could possibly replace a socket if they possess enough relevant electrical knowledge. However, hiring a qualified electrician will ensure the job is completed correctly, safely and in accordance with IET wiring regulations. The problem with DIY electrics is they very often are not installed to the highest standard; corners are often cut which leads to remedial work required a lot sooner than necessary. 
Upgrading a standard socket to a USB
With many modern-day devices compatible with USB charging it make sense to install sockets with USB ports. A USB socket offers more efficiency and limits the need for extension leads. Extension leads are a huge trip hazard and over-use can be dangerous.
I've just replaced the light bulb, but the switch still doesn't work – what is the problem?
Unfortunately, if you are experiencing this – your light switch has failed. If the light switch has been unreliable for many moths prior, the switch regularly sparks or sizzles, it's time for an upgrade. Although inconvenient, replacing your switch is an opportunity to enhance the overall aesthetic of your home. If you're tired of the standard, white, plastic sockets why not consider chrome style or black? These modern, more luxury style sockets and switches can easily enhance your homes appearance without breaking the bank. 
Electrician Coventry – high quality socket & switch replacement 
If you're concerned about your old, worn-out sockets and switches call or contact me and my friendly team to arrange a replacement service. We'll ensure your sockets and switches are replaced correctly with optimal safety in mind.