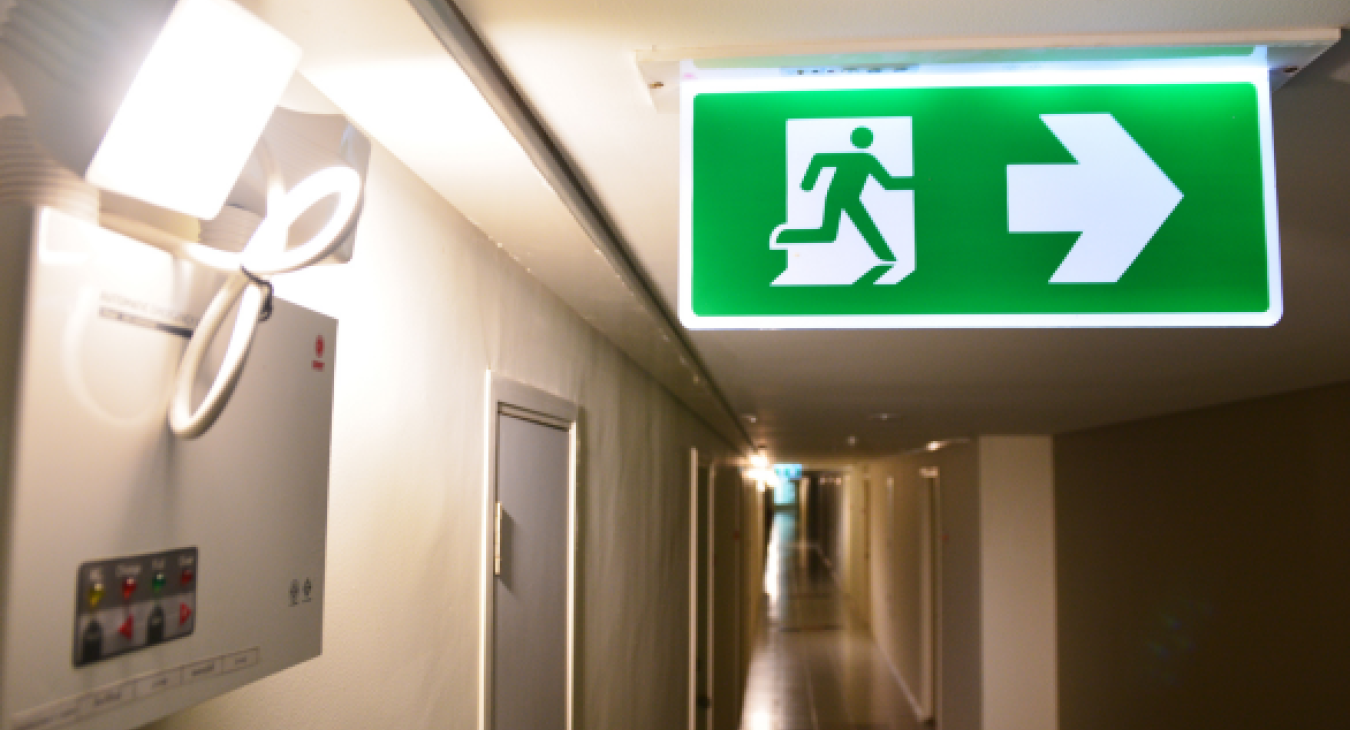 Are you looking for a reliable electrician who installs or maintains emergency lighting for landlords in Coventry? 

As the landlord, and legally responsible person, of a HMO in Coventry you will know that you have a duty of care to your tenants to provide emergency lighting to aid their escape in the event of a fire. To ensure compliance with these regulations and to make certain your building users are safe, you will need the services of an experienced emergency lighting electrician. Electrical Experts provide emergency lighting services to landlords in Coventry. We specialise is the provision of electrical services to landlords and have a thorough and in-depth knowledge of the regulations surrounding rental properties, including HMOs.  My team and I are all qualified electricians who can design, install and service emergency lighting systems in full compliance with BS 5266 of the Regulatory Reform Act. We can help you to keep your tenants safe.
Emergency Lighting Design and Installation for Landlords
When choosing an electrician to install your emergency lighting at your HMO in Coventry it is vital that you choose one who is experienced and trained to carry such an installation.  The emergency lighting that is installed at your property must comply with several British Standards including the code of practice, BS 5266. Your electrician must be well versed in these regulations to ensure you fulfil your legal obligations as a landlord and aren't left with poorly protected tenants- and at risk of a fine. Emergency lighting must be installed the right places. It is vital that it is installed correctly and with due care and attention to its successful operation. It must clearly show fire escape routes and provide sufficient lighting for your tenants to escape safely. Any firefighting equipment must also be highlighted by your property's emergency lighting. 
It is good practice as a responsible landlord to find an experienced Emergency Lighting Electrician to ensure the best and safest result.
Types of Emergency Lighting
The emergency lighting that you have installed in your Coventry HMO or rental property can be either maintained or non-maintained. Maintained emergency lighting is mains powered and is usually incorporated in your general lighting and used throughout the day. If there is an emergency situation and the power is cut, a maintained emergency light switches to a back-up battery. It can then remain alight for a period of around 2-3 hours, allowing plenty of time for your tenants to escape your property. Non-maintained emergency lighting relies upon a battery to stay alight. This is the lighting that only illuminates during an emergency. Most properties will have a mixture of maintained and non-maintained emergency lighting and variety of lighting styles can be chosen. These styles include bulkhead lighting, recessed lighting, decorative luminaries, and spotlights. Your landlord's emergency lighting electrician will advise which styles are required and would best suit your needs.
LED Emergency Lighting
As experienced emergency lighting electricians for landlords, my team and I will usually recommend LED emergency lighting. LED lights offer superior performance and many benefits to landlords. 
The key benefits of installing LED emergency lighting at your Coventry HMO property include:
•    50,000-hour lifespan on average compared to 5,000 hours for traditional bulb types. This is most relevant to maintained emergency lighting but represents a huge reduction in the number of bulb changes needed. If your lighting is on for 12 hours a day 50,000 hours equates to 11 years of dependable lighting.
•    Low maintenance. LED lighting lasts for a long time thus reducing your maintenance costs and time lost to repairs.
•    Energy efficiency. You could reduce your energy usage by an average of 60% by making the switch to LED emergency lighting at your Coventry rental property. That makes for some significant savings on your electricity bills.
Here at Electrical Experts, my Coventry based team and I provide a full emergency lighting electrical service to landlords. Known locally as the go to experts for landlord electrical services, we are highly experienced, fully qualified electricians. We have the understanding and knowledge of the regulations landlords must adhere to to design and install a fully compliant emergency lighting system. Call my team today to discuss the emergency lighting needs at your rental property or HMO.