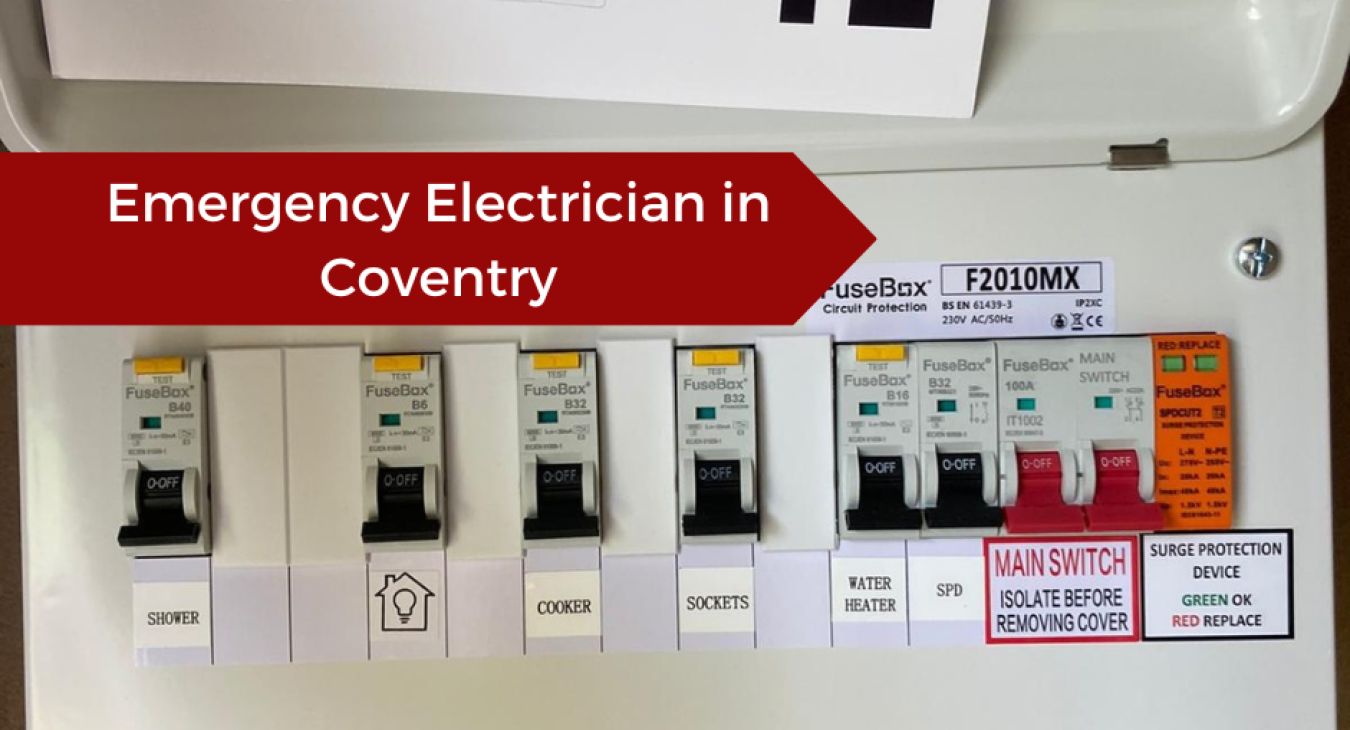 If the electrics in your Coventry home suddenly develop a fault, you will need to find an emergency electrician who can get you back up and running swiftly.
Such electrical faults often occur at the most inconvenient moment and rarely during business hours! Never underestimate an electrical fault, to ensure your safety you should call in a professional emergency electrician immediately. If you find yourself in need of a reliable and experienced emergency electrician in Coventry, my team at Electrical Experts are on hand to help 24 hours a day.  
Emergency Electrician 
Our fully qualified emergency electricians at Electrical Experts Coventry have a vast wealth of training to draw upon to resolve your electrical emergency. My team and I are highly skilled emergency electricians with wide ranging experience in all aspects of fault finding and electrical repair. We take your safety seriously and work swiftly to make your electrical system safe and repair the issue. To help resolve your electrical emergency rapidly we carry more spare parts and testing equipment than the average domestic electrician. An electrical emergency can be frustrating, confusing, and scary for you. Our friendly electricians will help put you at ease and will explain everything that needs to be done. As professional emergency electricians you will receive the same high levels of service from us at midnight as you would at midday.  
When should I call an emergency electrician? 
It can be difficult to tell if the electrical problems at your Coventry home require a visit from an emergency electrician. Whilst some electrical emergencies are obvious, such as total power loss, others can seem less urgent. For example, if the upstairs lighting circuit on your fuse board keeps tripping, it may seem to be an issue you can live with. However, such electrical faults can be symptoms of a larger, more serious problem and it is best to get an expert's opinion as soon as they occur. Electricity is a dangerous thing, and it is better to be safe than sorry. As your local emergency electrician in Coventry, Electrical Experts will be happy to speak to you about the electrical issue you are experiencing. When you call us, we will ask you several questions about your issue and will let you know whether it is best that we attend your property immediately.  
Some of the most common electrical emergencies we attend include: 
Power failure 
Short-circuits 
Fuses blowing on your fuse board or consumer unit tripping. 
Suspicious burning smells 
Sparking from plug sockets 
Electrical damage following a water leak or electrical fire. 
Fire safety repairs such as Emergency Lighting repairs 
We offer our reliable 24-hour emergency electrician service to homeowners and landlords across Coventry. My team and I understand that when you need an emergency electrician, you need them urgently. If you are based in Coventry, our experienced emergency electricians will make your safety a priority and get to you swiftly. Fully qualified, NICEIC registered and highly experienced in dealing with electrical emergencies, you can rely on us to keep you safe and reinstate your power swiftly. Call us today.