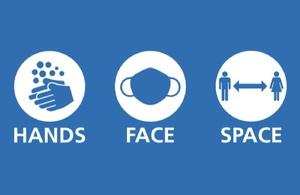 COVID-19 Customer Statement
TIER-3 COVID-19 UPDATE NOVEMBER 2020 - A MESSAGE TO OUR CUSTOMERS
First and foremost the safety of our customers, employees and family's remain Electrical Experts overriding priority. As the Coronavirus disease (COVID-19) continues to evolve and spread globally, we as a company are monitoring the situation closely and will update our company guidance based on current government and World Health Organisation recommendations.
As key workers we would like to provide an update for our customers on how our procedures have evolved to incorporate the increased levels of infection control and help reduce the risk of transmission of COVID-19 and to provide peace of mind to anyone who needs an electrician to enter their property.
Many of you have been asking questions regarding engineers entering your home, so we have created a step by step guide of our process below which will hopefully answer all of your questions
CUSTOMER SAFETY: WHAT ARE WE DOING?
The health & safety of our team, partners and customers is paramount. To prevent the spread of COVID-19 and reduce the potential risk of exposure to our customers and workforce, we will be conducting a simple online screening questionnaire which we will send your email address prior to your scheduled appointment with us. Your participation is important to help us take precautionary measures to protect everyone the best we can. Our engineers are also carrying out their own COVID-19 screening questionnaire prior to commencing with work to ensure our customers are kept safe.
Guidance has been issued to our engineers on precautions to be taken before, during, and after a visit to a customer's property. Each engineer has completed our regular toolbox talks on our new working procedure. The toolbox talks which they have been advised and trained on are:  
Avoiding close working
Hand washing
Hand sanitising
Donning & Doffing PPE
Disinfecting materials
Disinfecting tools & equipment
Covid19 Screening
Update COVID19 Risk Assessment
Our engineers are keeping equipment, materials and hands sanitised and reducing contact to a minimum while they are at your property. All materials or equipment installed at your property will be wiped over with a disinfect wipe on completing the repair or installation. Each engineer has been provided with a PPE kit which is fully stocked with the following items –
Hand Sanitiser
Disinfectant spray
Disposable latex gloves
Face masks
Eye protection
Disposable plastic bags for disposing of PPE
Overshoes
COMPLIANCE CHECKS
I regularly carry out site visits and will be carrying out random spots checks to our engineers.
Thank you for taking the time to review our updated working standards and if you have any further questions then please don't hesitate to contact us.