Would you know how to spot a dodgy electrician?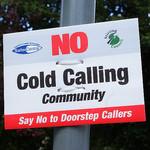 In many of the posts I write, I explain how to find a good electrician, but how can you tell if you're about to hire a dodgy one or worse still what we term in the electrical industry a cow boy?
A recent survey carried out by BT revealed that electricians are the most trustworthy tradespeople to use thanks to their best manners, time keeping and appearance. Now I can personally vouch for all three of those key services that you would get as a customer of Electrical Experts, however those 3 things alone don't guarantee you a great electrician. Cow boy electricians in particular are well known for having 'the gift of the gab' and as a result are able to reel in unsuspecting customers.
Avoiding a bad experience
There is no shortage of television programmes that feature people who've had a bad experience with a trades person. It is enough to make anyone feel edgy about picking up the phone when work needs to be done. In fact the BT survey of 2,000 UK people, resulted in over three quarters of respondents feeling worried or nervous about using a trades person for the first time and 40% admitting that they had received a bad experience from a trades person in the past.
When selecting an electrician to work in your home, I recommend inviting at least 3 to your home to provide a quotation, before making any decision. It is important that you are comfortable with the electrician working in your home and you understand what it is that they are doing. Recommendations from family and friends can be a good start if you don't know of any good electricians. If your friend got along well with the electrician, then chances are, you will too.
If you want your electrician to work to Government approved standards
A quick look on line or in the Yellow Pages will soon display an infinite number of electricians all seemingly eager to carry out electrical work. Of course the work standards between them will differ. If you are after a good quality job by an electrician who has pledged to work to Government endorsed electrical standards then the TrustMark register is a great place to look.
Electricians who are listed on TrustMark are part of a Government backed scheme that protects you as the customer. Electricians featured here are proud to work to consistently high standards and of course offer the full qualifications and registration that you rightfully expect.
As an electrician in Coventry, I am proud to feature on TrustMark and provide this much needed extra reassurance to my customers.
Always get 3 quotations in writing
Always get a minimum of 3 quotations before proceeding with the work. This not only gives you a good idea of the price you are looking at for the work but also whether you will get on with the electrician who will be doing the work. This is important in case you have any questions about the work whilst in progress.
Never select electricians who cold call and those who will not provide a quotation in writing. This should be offered as standard. Quotations should include a full breakdown of costs so you can see where your money is going.
When reviewing your quotations, always avoid the one that seems the cheapest. If you want to open up a can of worms, this is the one that will give you that 'unfortunate' experience that everyone talks about, so avoid this quote at all costs. The quote you should be looking at is the middle of the road one. I don't believe anyone should be paying over the top for a job so you can also discard the expensive one too!
Never give anyone the go ahead if you're unsure about them. If you need to, invite more electricians in to quote, you will find someone who you're happy to use soon enough.
Alarm bells should start ringing if...
You don't receive any kind of contract to sign to confirm the works that will be done. A very small company may not use them and work on trust alone. Whilst this is a nice touch in genuine cases, it is always better to have a contract in place. You could always construct one yourself which any genuine electrician would be happy to sign to confirm the works being done.
Is your electrician VAT registered? If the electrician is eager to take cash from you, this is a sign they might not be honest. Cowboy electricians pocket the cash and it means they are virtually untraceable once the job is finished. Nowadays large sums of cash is a security risk and may also mean the electrician is not paying for essentials like insurance and tax! Most electricians nowadays accept payments in the same way as shops do so you can use your card, bank transfer or even a cheque.
Never feel you should be withdrawing large sums of cash from your bank account to pay for the work.
When to walk away....
Remember that ALL electricians should be proud of what they do. This means that they will happily answer questions and show you relevant documents if you want to see them. Here at Electrical Experts I am happy to tell the world what I do and have no problem at all in showing qualifications, registration, examples of work and anything else that my customers want to see.
Look out for these, and walk away if you encounter them:
cheap quotes and having to decide then and there
Cowboy electricians use a scary tactic that makes you feel pressurised to accept their quote whilst they're there. They will often drop an already cheap price to attempt to secure the work. Any reputable electrician will never pressure and many will actually leave to work the price out before coming back to you with a proper quotation a few days later.
Will not offer a written quotation
Written quotations really are a standard service with any reputable electrician nowadays. Written quotations should also be of a professional standard, on headed paper, preferably typed with a full breakdown of costings. VAT should also be included at this point if applicable. Be very wary of a scribbled note with a basic price, this is a written quotation in the roughest sense of the word!
An experienced electrician will only be too happy to provide references from customers who have had work carried out by them in the past. Better still, if you can find their past customers yourself for your own feedback that would be even better. New electricians should still have a portfolio of work and references from past employers or college.
Want to start work right away
I always recommend getting quotations as far ahead as possible so you have enough time to decide and book in your chosen electrician. Good electricians can be booked up for weeks in advance particularly on larger jobs. Avoid electricians who can start tomorrow or within a few days. Of course some may have last minute availability and if that is what you are looking for then this arrangement could work for you. However you should not feel pressurised into having the work done right away and avoid paying cash for last minute jobs.
Make sure you are satisfied you can contact the electrician afterwards
It is a good idea to use established electricians. At the very least it should be straightforward to obtain a business address and land line telephone number. This shows that the business has a fixed address and is not just travelling through an area doing work. It is a good idea to use an electrician you may have heard of in the past or seen their vans. Avoid electricians who appear to have nothing more than a mobile number, remember this can be turned off at any time. If a problem develops after the work is finished, you need to be able to make contact.
You should never be asked for money upfront, not even for materials. There is no obligation on your part to make payment until the job is completed to your satisfaction. Some electricians may arrange for staged payments on larger jobs, particularly if it is a small company, but there is no reason why you should agree to any payments until the job is complete.
All business has the ability to accept several payment methods. A bona fide company will have a bank account therefore, a bank transfer could be easily made by the customer without the risky business of carrying around large sums of cash. Increasing numbers of electricians also accept card payments and many still accept cheques.
Never feel pressurised into paying cash.
Next time you need a quotation for electrical work in your home, you will have the knowledge on what to avoid and when to walk away. It's a bit like spotting a good egg from a bad egg! :)