When did you last check your electrical appliances for electrical damage?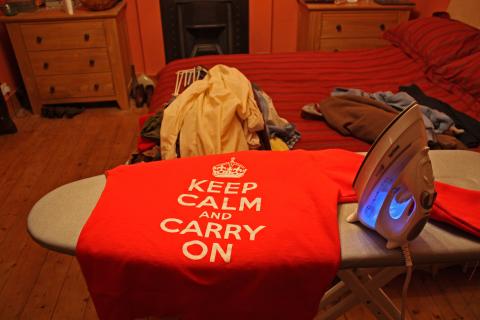 Dangerous electrical appliances can be a leering death trap in your home. Most people think of dangerous electrical appliances as ones that are old or which have obvious damage to them. The startling fact is that any electrical appliance has the potential to cause a fatal electrical shock or serious house fire. As a leading electrical company in Coventry, I have earned my reputation by putting electrical safety in the heart of everything I do. I am far more than carrying out electrical work in your home, and am a firm believer that electrical safety goes much further than the wiring in your home.
Do this task TODAY in the name of electrical safety.  Find out why by continuing to read.
Today I visited a property in Royal Leamington Spa to carry out a quotation visit for some electrical services. Whilst I was at the property I happened to notice the iron. Luckily it wasn't in use but the cable resembled this:
 As can be seen in the picture, there were live wires visible through the damaged cord of the iron. Visible wires like these are extremely dangerous and if touched accidentally whilst the iron is in use have the potential to cause an electric shock.
It is essential that no electrical appliance in your home is used if the cable or cord has visible wires. If your iron has cord which looks anything like this, please replace the iron and do not use it.
If you only do one thing to ensure your electrical safety today, please take a few moments to check the condition of the cord on your iron particularly checking for visible wires on both the cord and around the plug.
Never attempt to repair the cable yourself
Another common scenario I come across often as a certified electrician in Coventry is the attempt to repair damaged electrical cables and cords with PVC tape. Nearly everyone I question about this practice believes that the PVC tape will protect them against electrical shock in the same way as a cord or cable would. This is simply not the case and PVC tape is a highly dangerous way of repairing a damaged cable.
It is essential that irons in particular are checked carefully for electrical damage as they often contain water used during the ironing process. Droplets of water can easily come into contact with the cord and if there is any damage then you are at risk of electrical shock or injury. Remember water and electricity do not mix so never take the chance.
What you should do if you have a concern about the electrical safety of any electrical appliance
If you have any concern about the safety of any electrical appliance in your home then unplug immediately and do not use. If the appliance would be costly to replace then please contact a qualified and registered electrician who can investigate what the problem actually is.
To find an electrician in Coventry take a look at the Registered Competent Person Electrical website. This is the only Government approved register of suitably qualified and registered electricians in England. Never use an electrician who does not appear on this register.
Check the cord and plug of all your electrical appliances on a regular basis particularly small appliances which can be moved around before you plug them in. It takes just a few seconds for an electrical problem to occur and potentially a lifetime of problems afterwards.