First Fake Electrician Fined in Irish History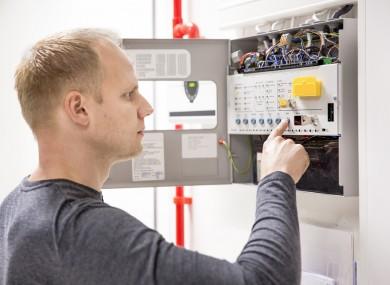 The first Irish prosecution of a fake electrician took place after a man was found carrying out illegal electrical work in homes under the guise of a registered electrician.
This is a step in the right direction and sends a clear message to unqualified electricians to stop what they are doing or risk prosecution. Up until this point, actual prosecutions on unqualified electricians was a rare occurrence. As a qualified and registered electrician in Coventry I am very keen to see the practice of fake electricians stamped out by the real threat of coming down harder on legal action.
Fake electricians are people saying they are qualified and/or registered electricians. In it estimated that there are up to 20,000 people like this carrying out electrical work up and down the UK on a daily basis, so it is a real problem.
Electrical work that is not carried out in accordance to the latest electrical regulations or certified can be both illegal and dangerous. The householders are merely guinea pigs in this exercise as the work nearly always fails on many levels leaving householders and anyone who visits their home at real risk of electric shock and serious house fire.
How can prosecution take place?
In the case of the Irish fake electrician, the individual concerned was found guilty at Dublin Crown Court on two counts: illegally carrying out restricted electrical work and portraying himself as a registered electrical contractor.
The offences were committed under the Electricity Regulation Act 1999. All electricians working in the UK must work within this Act.
In addition in Ireland, it is a requirement for electricians to be approved by the Registered Electrical Contractors of Ireland or the Electrical Contractors Safety & Standards Association.
If you are looking for electrician services in Coventry, it is important that you ensure the electrician you hope to use is both qualified and registered. The best way of doing this is to look at the only Government approved register of electricians known as electrical Competent Person. The register lists all electricians in England and Wales who are approved to carry out electrical work for householders.
Alarm bells should be ringing if the person who has told you they are an electrician is not on this list. Don't fall for their charms, if they are not on the list, do not allow them to carry out any electrical work in your home.
What to do if you suspect electrical work has been carried out by an unqualified electrician
If you feel you have used the services of someone who is not a genuine electrician, the first step is to contact your Local Council. It is important to make it known that there is individual around who is carrying out electrical work in peoples homes who shouldn't be. As a certified electrician in Coventry I often find that people choose to say nothing.
It is important to report people like this not only to prevent someone else going through the same problem as you have but also to help bring a possible prosecution forward.
Never be afraid to speak up, electricity kills, and you don't want to be the next victim.