Electrical Experts – Raising Public Awareness of Electrical Safety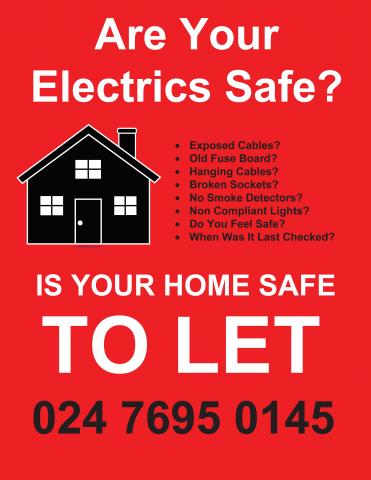 Electrical safety in homes is a subject very close to my heart and I am committed to spreading the important message about electrical safety in the home. One of the main problems I find when visiting homes for quotation visits is the lack of knowledge surrounding electrical safety.
Regular readers of my blog will be aware of the importance of using a qualified and registered electrician to carry out electrical work in homes. However many people don't fully understand the idea surrounding an electrical certificate or even using a qualified electrician. I installed some new LED lights for a client in Birmingham recently and when I mentioned about providing a Part P certificate for the work, she said "I don't need that, I'm not moving." Of course a Part P certificate is far more than a requirement if you're selling your property, it is about electrical safety and peace of mind.
Why a Part P certificate is important
More than anything else, a Part P certificate is prove that the electrical work carried out meets the latest electrical standards and has been tested for safety.
As an electrician in Birmingham, I see many instances of dangerous electrical work that has been carried out by either unqualified or unregistered electricians. Many householders make the mistake of simply looking at the cost when having electrical work carried out. This leads to many people making the dangerous decision of hiring someone 'who knows a bit about electrics' to do the job instead.
Electrical work that is carried out incorrectly leaves you and anyone in your home at serious risk of electrical injury or even death. Your risk of house fire also increases dramatically. Electrical fires are now the main reason for house fires in the UK. Are these the sort of risks you want to take to 'save' a bit of cash? I say 'save' because invariably this dangerous electrical work fails within a short space of time, leaving you to effectively pay twice.
Where to find a qualified and registered electrician
In recent times, finding a suitably qualified and registered electrician was not the easiest thing to do leaving many people to rely on recommendations from friends or relying on dubious directories. Thankfully all this changed on the 2nd July when an all new electricians register known as Competent Person Electrical was officially launched.
Competent Person Electrical is the only non-biased Government supported single register of electricians covering England and Wales. All electricians on there are all regularly assessed for work competence and hold the appropriate qualifications and registration to carry out electrical work in domestic properties.
The website http://www.electricalcompetentperson.co.uk/ is really easy to use – simply enter the company name or your postcode to find your nearest electrician. As an electrician in Birmingham, and of course listed on electrical competent person, I support this register every step of the way. If promoted correctly, it will go a long way in helping to resolve the huge number of unregistered electricians carrying out work every day in UK homes – up to 20,000.
Think about who you use to carry out your next electrical project
Electricity kills 1 person in the UK and injures thousands more. Make sure you're not leaving yourself open to becoming the next victim. Always use a qualified and registered electrician to carry out your electrical work even if it's only an extra socket. I carry out electrical work for householders in and around Birmingham, Coventry and Staffordshire. If you require any electrical safety advice and a free quotation please do not hesitate to get in touch.