Landlords in Coventry, do your tenants have a fire alarm & do they comply?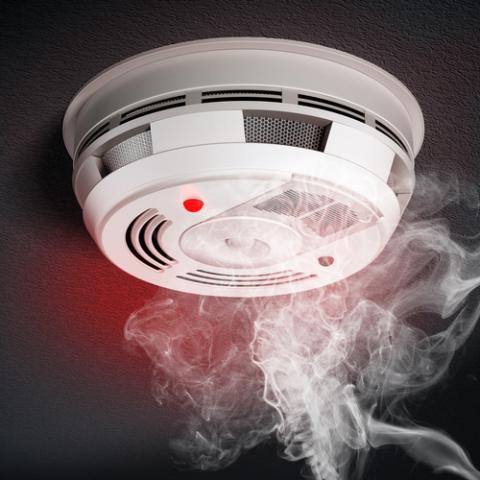 Research carried out by YouGov recently revealed that 1 in 5 private rented properties do not have a working fire alarm. Despite a 90% uptake in fire alarms after a successful decade of campaigning for homes to have a working fire alarm, it is tenants who privately rent their homes that have mostly been found to have no smoke alarm.
A governmental notion for fire alarm provision to become a compulsory requirement in all rented homes is receiving huge support. In fact when ministers voted last week, a total of 245 MP's voted for the notion with only 8 against. As an electrician in Coventry, I strongly recommend the fitting of a fire alarm system in all homes whether owned or rented, and as such I fully support a Government notion of this type.
Isn't a fire alarm system compulsory already for landlords?
The answer is yes and no. Landlords who rent homes with multiple occupancy (HMO) where each room or floor is rented out to different clients (I.E not one single family) or blocks of flats must have a fire alarm system in place that is maintained by a qualified and registered electrician or fire engineer. Furthermore the fire alarm system must be satisfactory as part of a fire risk assessment under the Fire Safety Order 2005 which must be carried out in all HMO, non-domestic and commercials businesses.
Currently however there is no legal obligation for a landlords of other property types to provide a smoke alarm, although I highly recommend that you consider the implications of not having one carefully.
Four times greater risk of dying in a house fire with no working fire alarm
Householders with no working fire alarm are four times more likely to die in a house fire. The YouGov survey revealed that the private rental sector lagged behind social housing in terms of fire safety with 93% of housing association homes and 89% of council properties found to have working smoke alarms. A reduced 82% of private sector homes were found to have working fire alarms. This is of particular concern as I regularly carry out works for landlords in and around Coventry who care about the safety of their tenants.
Unfortunately I am also aware of the 29% of landlords who do not currently take any measures to protect the safety of their tenants. This is according to a report by the DCLG which addresses the shortfalls of home safety in the private rental sector.
If the measures in the report are approved, landlords are likely to see unlimited fines introduced under the Housing Act 2004 if they fail to meet their obligations as a landlord which may include mandatory EICR's, RCD's and other measures designed to protect the safety of tenants.
What is a working fire alarm?
Having a fire alarm is not the end of the matter. It is important that your fire alarm is tested regularly to ensure it is working. Simply pressing the test button on a weekly basis and ensuring the fire alarms emits a 'beep' is sufficient. Unfortunately I visit many homes in and around Coventry where tenants and home owners do not test their fire alarms. A successful campaign known as Test It Tuesday highlights the importance of testing a fire alarm as part of an everyday routine. Test it Tuesday is a fitting campaign where a fire alarm is tested at the same time every week as part of a household routine.
What should I do if my smoke alarm does not work?
If your fire alarm does not appear to work when tested or you have other concerns about it, it is important to notify your landlord immediately. Do not be tempted to tamper with a fire alarm system yourself.
Most landlords, and I work with many letting agents and landlords across Coventry and Warwickshire take the safety of their tenants very seriously regardless of the type of accommodation they rent out. However, if you live in a rented property with no smoke alarm, I highly recommend informing your landlord and requesting a fire alarm.
Currently, Landlords (or the responsible person) who have a legal obligation to provide a suitable and efficient fire assessment and do not do so face an unlimited fine or up to 2 years imprisonment.
If you are a landlord and are not sure about the upcoming changes and want to make sure your home is up to rental standard, please do not hesitate to get in contact.